…was it Pooh Bear who said that…or was that about eating honey – Oh if eating honey was my only task!
I have set aside what time I have this month to Focus on completing and following up on the previous three.  To recap: I spent January focusing on my finances, February focusing on simplifying and decluttering my space and March focusing on a Spring clean.  I now have a list of left over jobs to tackle from each month and only two weeks of April to complete as we will be away for Easter and beyond.
You will find the list of tasks under April if you click on the Focus 2014 tab above or click here
I have been a busy bee this weekend whizzing through some of those little jobs that hang around – you know the ones I mean the non-urgent tasks that seem to roll over on the task list from one month to another.  If you don't suffer from this ever then please leave me your secret in the comment box!
Since last Friday I have managed to  –
get a spare garage key cut £5.50 (ouch!), only on the list since last month
take my paper scissors to be sharpened £3.50 (I thought this was reasonable as they will last a while and it saves buying any new ones), on the list since January
laminated the clock change instructions to keep handy in my car and the compost layering 'recipe' to nail to the underside of the compost lid, as well as the musical sheets that are part of our musical crackers game ready for next Christmas get together,  on the list since January
cut back part of the front lawn that had crept over the driveway, on the list since last September
weeded the front bed where my lovely tree had been that succumbed to Honey fungus and is now ready for new planting,  on the list since February
finished copying over the old videos that we want to keep on DVD discs,  on the list for over a year
hubby took the sink trap off for cleaning (the fact that he didn't screw the half bowl trap back on properly and I flooded out the cupboard below tonight – we won't mention!), actually not on the list but we had a drain smell occur this last week
sent another bag of clothes to charity,  not even on the list
washed my black winter coat,  on last months list
washed all the cleaning cloths and dusters,  on the list for ages – the pile has just got bigger (they definitely breed)
balanced our finances, trying to do this at the end of each month no matter what
located the bottom of the ironing basket, this is on my weekly list but often has to be abandoned
and that was as well as the usual cleaning, washing  and tidying but it does feel good to not have to roll them over again.
I must say that the parts of the house that I have simplified, decluttered and cleaned are a real pleasure to be in.  I do need to work on my routines to keep up to this level of tidiness, cleanliness and clutterlessness (is there such a word?)…and most of all I need to keep a tight hold on the purse strings to avoid buying and bringing unnecessary bits and pieces back in.
Having said that there are certain items I am looking to buy or even make and as I go through each room simplifying and decluttering I am making a list of these items.  That may sound strange when my mission is to get rid of things but I also want to enhance my new space and make it decoratively pleasing to be in.
One of the items I am on the look out for is a small pretty wicker basket to contain my use up toiletries – so I can leave it out in full view and remember to use them.  At the moment they are in a Muji plastic tub but it would be nicer to have them in something a little more decorative than functional as I am sure it will be an ongoing container, even this plastic one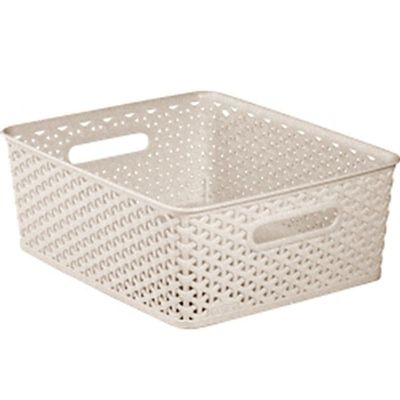 from Lakeland would be better but I would like to avoid plastic and prefer a white-painted wicker one.
For anyone out there doing the same decluttering / tasks / spring clean how is it going for you?
Have a good week x